Need Affordable IT Support?
With today's ever-changing technology, organizations rely on having a solid and reliable IT infrastructure and the tech support to go with it. But most small and medium-sized businesses (SMBs) can't justify the expenses involved in employing full-time business IT support professionals. That's where we come in. Carroll Computer Connection can provide your business with a full team of IT support experts with experience and skills across all types of technologies and applications who are ready to respond at a moment's notice – and all at a price you can afford.
Carroll Computer Connection's business IT support pros provide:
Hardware setup and installation
Network design and configuration
Software training and support
Expert tech support
One low, fixed rate for all your IT needs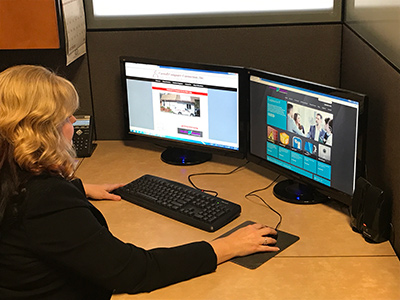 With modern IT needs – not to mention the hardware and software necessary to keep your business growing – it's no longer feasible for one person to manage and maintain all your software, hardware and tech support.
Now, for a fixed and affordable rate, Carroll Computer Connection offers Baltimore businesses like yours the tech support and service you need when you need it, to keep your business running smoothly and efficiently. Our experienced engineers and business IT support personnel can generally work with you over the phone to diagnose problems and get you up and running again. And since our company is in Baltimore, one of our technicians will come to your business right away if needed to tackle any roadblocks and get you back on track.
Don't wait for a crisis – call Carroll Computer Connection today to start getting the business IT support you need.
---
Data Protection – Could Your Company Overcome the Loss of Its Vital Data?
What if your business abruptly lost its IT infrastructure and crucial data as a result of a natural disaster, theft, or system failure? Do you have a backup and data recovery program to get it all back? Baltimore-based Carroll Computer Connection offers comprehensive, dependable data recovery and backup strategies for companies just like yours.
We'll help you assess the needs of your organization and discover the data backup solution that's best for you. We'll make sure that your company's information is protected from loss due to hackers, theft, system failures, and unforeseen disasters through our customized backup and recovery programs.
Carroll Computer Connection's comprehensive backup and data recovery products include:
Protection from viruses and illegal access using the latest technology
Secure access to your data using our dedicated servers
Automated backup of your company data throughout the day, every day
An off-site clone of your IT infrastructure that can be utilized as a spare within minutes in the event of a system failure at your office
Monthly invoicing for your data protection services – with no added expenses for hardware or software
If a fire, flood or other disaster destroyed your office, having on-site data backup and recovery equipment wouldn't be adequate. While a scenario like this will hopefully never occur, there are lots of other threats, including network and software application failures, which might require days to fix.
Without access to vital information, would you be able to make contact with customers and vendors and continue to operate your business? How long would your company get by?
Contact Baltimore's data protection professionals at Carroll Computer Connection right now to learn more about how we can help you protect the most critical element of your business.
---
Managed Services – A Complete Solution for Small Businesses
As a Baltimore area small business owner, if you're handling and supporting your IT in-house, you're probably struggling with the resources required to provide the hardware, software and tech assistance you need. Keeping up-to-date and well-informed is costly and time-consuming, and it takes your focus away from activities that actually help your company grow. We have a solution for you: A complete managed IT services program which combines the latest technology with the on-demand support you need.
Carroll Computer Connection's Managed Services programs provide:
On-demand assistance from our professional Baltimore-based IT support team
Low, fixed costs and basic monthly billing for all our services
Ongoing observation of your systems to anticipate and avoid problems
More time for you to focus on growing revenue
Giving employees access to the latest in managed services technology and on-demand IT support will improve productivity and morale. Plus, once you free yourself from the problems of maintaining your IT infrastructure, you'll have more time to devote to profit-building activities that help your Baltimore company grow.
We'll closely observe your computer systems, anticipating and solving problems before they occur and giving you answers to questions when you need them. With us as your Baltimore managed services provider, you'll get on-demand access to locally-based professionals and big-business managed IT services at small-business prices. With our versatile managed services programs, your IT and your budget planning become simpler, allowing you to focus efforts on finding new sources of profit.
Contact Carroll Computer Connection now for more information on our managed IT services and to schedule a free IT assessment.
---
Service Plans
From our Bronze Monitoring Plan to our most extensive monthly service plan, Carroll Computer Connection, Inc. has a way to meet your business needs. Since 1994 Carroll Computer has serviced clients with professional, prompt and dependable IT services. We provide both on-site and in-shop services to meet the demands of each client. Your business can rely on us to properly maintain your equipment and significantly lower downtime and increase efficiency. At Carroll Computer, we understand the critical role that technology plays in your business and the importance of a good relationship with your IT services provider.
If you have any questions regarding which plan is best for your business, please write or call our sales manager Kelley McIver to schedule an on-site network evaluation with an experienced technician. We will be happy to make a recommendation tailored to meet your specific needs.